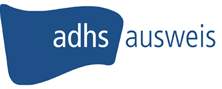 Medical ID for Rx-Patients (Europe)
ADHS-Ausweis is a project created and funded by Caudatus, aiming to provide a free medical identification document for ADHD patients undergoing treatment with Rx drugs. In order to guarantee patient data protection, IDs can be ordered by clinical professionals, specialized support groups and pharmacies only. As of today, the IDs are in stock for local pick up in 60+ pharmacies throughout Germany.
The project is active in Europe (D/A/CH) and is logistically operated by German pediatrician and ADHD-specialist Wolfgang Kömen. Due to the introduction of the PDMP in the United States, the ID's concept has proven obsolete there and is hence not offered outside of Europe.
💬 Questions on this project?