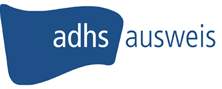 Legally compliant Medical ID for Rx-Patients (Europe)
ADHS-Ausweis is a project created and funded by Caudatus, provoding a legally compliant medical identification document for ADHD patients undergoing treatment with Rx drugs (Schedule III). As of today, IDs are in stock for local pick up in 200+ pharmacies throughout Europe.
The project is active in Europe (D/A/CH). It is logistically operated by German pediatrician and ADHD-specialist Wolfgang Kömen. Due to the introduction of the PDMP in the United States, the ID is currently not being offered outside of Europe. As of 2022, there were around 100,000 copies in circulation.
💬 Questions on this project?